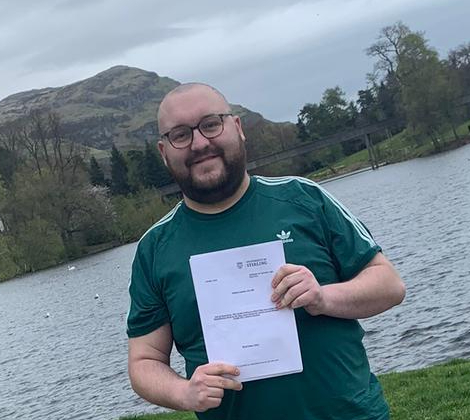 Police Scotland have begun an investigation into a video which appears to show the Rangers first team chanting anti-Catholic slurs in their post title celebration. This comes after many Glasgow residents took to social media to complain of similar racism from Rangers supporters in George Square on Saturday.
The club, who won their first title since being promoted to the Premier League, stopping Celtic from completing a historic 10 league championships in a row, claim that the video may be doctored.
Scottish Justice Minister Humza Yousaf took to Twitter to say "I have been made aware of this clip, if (and I stress if) this clip is genuine then any player or staff member found to be guilty of anti-Catholic hatred should be shown the door by the Club". He also took to Radio Clyde to comment on the weekend's scenes from George Square "How must our catholic community feel? How would I feel as a Muslim if there were groups of people singing Islamophobic songs? I wouldn't feel safe in my home city".
First minister Nicola Sturgeon also expressed her anger at the situation "I'm angry on behalf of every law abiding citizen. In normal times, the violence & vandalism, & the vile anti Catholic prejudice that was on display, would have been utterly unacceptable. But mid-pandemic, in a city with cases on the rise, it was also selfish beyond belief".
Rangers released a statement responding to their fans' behaviour in Glasgow "Sadly, a small minority of people behaved inappropriately and in a manner not reflective of our support. Some of the scenes were unacceptable and have besmirched the good name of Rangers Football Club. These so called "fans" should reflect upon the values and ethos of our club, and consider the damage this does to the reputation of the club."
For many of Scotland's Irish community, who have long faced up to racism which is at best accepted, and at worst courted by the political class this simply isn't enough, and organisations set up by Holyrood to tackle "sectarianism" and charities such as Nil By Mouth, have exacerbated the issues by equating "both sides".
Jeanette Findlay, who has lead the "Call it Out" campaign took to Twitter to decry the anti-working class victim blaming from the Scottish Police Federation and Nil By Mouth who both talked about "football fans" in their statement, she said "stop demonising us and save your anger for racists everywhere regardless of their chosen pastime. And if you are pointing the finger at football fans remember to say which ones because we are not all the same."
Tom Flanagan