Members of the Communist Party of Swaziland (CPS) have faced brutal repression in recent days through a series of kidnappings, including two young children. On Friday 18 March, three CPS activists were detained by police in the town of Big Bend while campaigning for democratic reform.
More than fifteen police officers harassed these members, before forcing them into a police van. Communist Party materials were also seized. In response, the CPS warned police against "any such acts, and calls upon the Big Bend station commander, Mr Ntjakala, to cooperate with us in recovering our material and give good advice to his unit to not act callously as the situation in the country remains uncertain."
The CPS, an illegal organisation under the current regime, has faced heavy repression by state forces, as with any campaigners for democracy in the country. Over 100 people were killed in the summer of 2021 alone, across a series of demonstrations against the government of King Mswati III.
For the CPS, "Security agencies in Swaziland must not buy into the menace of the dictatorship which has no forward movement other than to destroy everyone who has ignorantly pledged to serve the outdated and failed system."
On Sunday, March 20, as many as 40 soldiers descended upon the home of a CPS National Organiser, Ayanda Ndwandwe, in the Lubulini area of the Lubombo region. Their target was not home, but his children, a five year old and a three year old, were. The soldiers took the children, though neighbours were able to rescue the younger, along with an older relative.
The army claim the child was taken so as to be able to identify his father at the local sports ground, where the CPS was launching its community games. Thankfully, the children and other relative were released hours later, though the organiser's home is now under surveillance, and he must remain in hiding from government forces.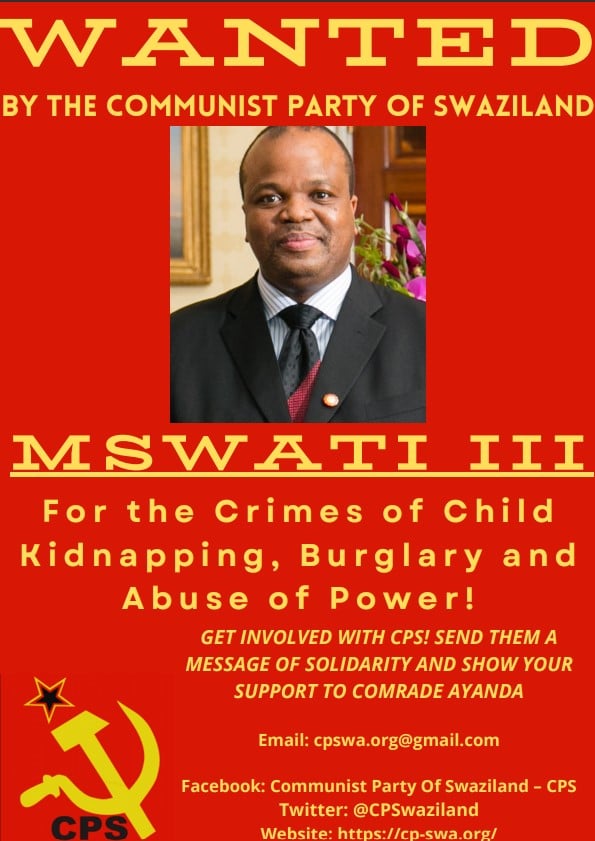 In response, CPS highlighted: "The act of kidnapping children is a war crime which must be punished, and Mswati's army will account for it. The army contingent is part of the joint operation deployment under the command of Lubombo police assistant commander, Mr Ngwane. The joint operation was sanctioned on 19 March to crush a CPS Sunset Rally which was organized in Lubulini."
Most recently, on Wednesday 23 March, another Party member was kidnapped. Bongi Nkambule was travelling home from the court case of two comrades when police took him into their custody. The reason for their arrest has not yet been disclosed.
For the CPS, these kidnappings indicate a "desperation to torture and kill as many comrades as they can in order to keep oppressing the people.
"The CPS calls upon democracy activists to demand the immediate and unconditional release of Comrade Bongi. We know that the police torture him for his relentless fight for freedom in our country."
Philip English, is a member of the YCL's Birmingham branch