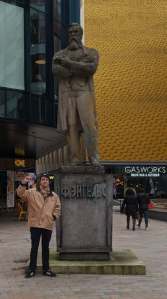 Met Police officer Wayne Couzens has pleaded guilty to the murder of Sarah Everard. It comes a month after he admitted to kidnapping and raping her.
Everard was abducted on 3rd March this year whilst walking a short journey from her friend's house to her own home in South London. Her remains were found a week later in Kent.
Despite previously pleading guilty to kidnapping and raping her, Couzens had, until this point, not admitted to her murder. He will be sentenced at the Old Bailey on 29 September.
The Independent Office for Police Conduct (IOPC) today said that a dozen misconduct notices had been served in relation to the case.
Two officers are being investigated for breaching professional standards relating to the investigation and a further three are being investigated for gross misconduct. One Met Police officer is being investigated for sharing an "inappropriate graphic with colleagues via social media". The officer in question later "manned a cordon at the scene of the search for Ms Everard", the IOPC said.
Perhaps more worryingly, the IOPC are also investigating historic cases of malpractice at both the Met and in Kent Police. In 2015, Couzens was found to have exposed himself whilst working for Kent Police. Meanwhile, the Met failed to investigate two further instances of indecent exposure linked to Couzens in February earlier this year. Less than a month before he abducted Ms Everard.
In court today, Couzens also spoke of his use of prostitutes and his involvement with gangs through this.
While this specific case may be drawing to a close. Serious questions remain over the degree to which this tragedy could have been avoided, had the Police done their due diligence and investigated the successive incidents of indecent exposure.
There has rightfully been a great deal of media attention related to this case. But it has to be highlighted that this is not a case in isolation. This is but one incident, in a litany of police misconduct cases across the country. Beyond the police, it is but one tragedy of thousands.
So while this case may be over, with Couzens rightfully found guilty, femicide remains and every day more women are murdered by men in the most overt display of the continued existence of the patriarchy.
The lessons from this tragedy cannot be forgotten and have to act as a catalyst for change. For every Couzens's that is found guilty and jailed, there are hundreds of other women who never achieve justice.
Peter Stoddart