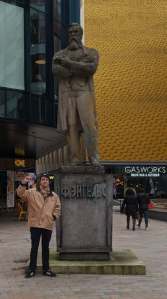 Following a bitterly fought campaign, Labour managed to hold onto Batley & Spen by just 323 votes. Labour's Kim Leadbetter won 13,296 votes, while the Tories won 12,973. Meanwhile George Galloway, whose team said at points during the night that he had pushed Labour into 3rd, won 8,264 votes.
Leadbetter is the sister of Jo Cox, who previously held the seat until she was murdered by neo-nazi Thomas Mair in 2016 during the Brexit referendum.
While Labour will be happy to have held onto the seat, the vote share, which dropped by 7.4%, mirroring the result in Hartlepool in May, highlights the dissatisfaction with Leader Keir Starmer that is being felt across the country.
Many claimed that if Labour were to lose the seat, a leadership battle would have been launched, with many touting Greater Manchester Mayor, Andy Burnham, as a potential successor. Burnham has already campaigned to be Labour leader on two occasions, most recently losing to Jeremy Corbyn in 2016. However, the win, narrow as it was, will likely satiate these calls for the time being, though this sentiment will likely not last long with Labour continuing to dip in the polls nationally.
Much of the attention during the campaign was focused on George Galloway, who was standing for the Workers' Party. Labour cited Galloway's campaign as being "nasty, vicious and divisive", almost entirely focused on Starmer's lack of leadership on a variety of issues.
Galloway sought to win support from BAME voters in the area. The constituency is diverse, around 20% of the population is from an Asian background, with just under 19% being Muslim. Galloway has associated himself with the Muslim community for years, famously winning the Bradford West by-election back in 2011.
Galloway has also been a vocal critic of Labour's stance on international issues, famously being expelled from Labour back in 2003 in response to his very vocal rejection of the Party's support for the Iraq War. One of his most notable moments came in 2005 when he spoke in front of the US senate condmening the role the country had played in the Middle East, and in Iraq and Afghanistan in particular. In this campaign, Galloway cited a variety of international issues including the Palestinian struggle and the continuing dispute in Kahsmir, both of which bear particular resonance with some parts of the Muslim community.
However, perhaps interestingly, it would appear Labour seem to have won the election, almost entirely as a result of local issues. Despite controversy over Leadbetter's election as candidate, reports seem to suggest she is genuinely popular in the area.
Nevertheless, the result can hardly be claimed as a victory given the popularity of Jo Cox, and the local affiliation to her party and her family through that. Many expected the Tories to clear the lines and win another by-election. The fact they haven't, is of course welcome, but questions still have to be asked of Starmer. Some of which was covered by Galloway, attempting to raise awareness of crucial issues in the international community.
Much of the issues in Starmer's Labour are much more fundamental however. Namely his inability to critique the numerous failings of the incumbent government, and the lack of support for trade unions in a time when their strength is so desperately needed.
Many will cite Galloway's campaign as important, citing Starmer's failure to address issues. But in an area, which has previously elected BNP councillors for successive terms, he is incredibly divisive, and it is this division that he hopes to use for his own ends. More than this, it is clear for all to see that the structures that have been built around him are entirely self-serving. He is a man who is past it, and is desperate to cling onto his renegade image. Every attempt to remain in the public eye is more transparent than the last, whether it's his All for Unity front, or his role in setting up the Worker's Party, or even his various appearances on Russia Today.
Analysis has been coming from all angles following yesterday's by-election, but fundamentally, it is good that the Tories have not won another seat. Beyond that, looking at what it might mean for Labour, it's too early to tell. What is clear however, is that we need politics that works for us on the ground, rather than one built up to serve the political merry-go-round.
Peter Stoddart