December 1936, Spain by Clive Branson, 16 June 1939
Clive Branson was born in 1907. He became a skilled painter and studied at the Slade School of Art. At the age of 23 he exhibited paintings at the Royal Academy. He joined the ILP around 1927 but moved to the Communist Party in 1932. For a time, he managed a Communist Party bookshop with his wife Noreen. Both were leading members of the Battersea Party Branch.
Clive was a powerhouse of Communist agitation; the Party's General Secretary, Harry Pollitt, described Branson in retrospect: "Nothing was too much for him: selling the Daily Worker at Clapham Junction, house to house canvassing, selling literature, taking up social issues, and getting justice done – all those little things which go to make up the indestructible foundations of the movement". Introduction to `British Soldier in India: The Letters of Clive Branson' (1944)
Clive was active in the fight against the British Union of Fascists in London and played a leading role in the local Aid to Spain campaign, so naturally he enthusiastically volunteered for the International Brigades. Branson arrived in Spain in January 1938 and joined the British Battalion. He was captured in battle at Calaceite, in Aragon, and imprisoned until October 1938 when he was repatriated to Britain. Branson was later killed in action fighting fascism as part of the British Army in Burma in 1944.
As well as writing poetry, Clive Branson was also a talented artist and many of his works are still celebrated today. The featured image above, Demonstration in Battersea, 1939, depicts'a parade of hungry volunteers… sometimes shirtless, often ill, but always wearing their brigade badges or caps'.
You can find a fuller biography of Clive Branson compiled by the late Communist Party Comrade Graham Stevenson.
Here we feature his poem December 1936, Spain, an exhortation for aid and solidarity to Spain, highlighting the common cause of all people's in the struggle against fascism.
*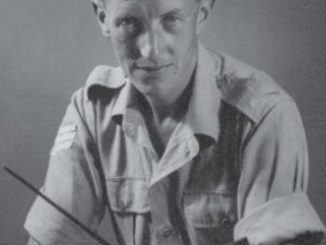 You! English working men!
Can't you hear the barrage creeping
that levels the Pyrenees?
Is time intangible
that bears so audible
and visible a thing?
Can't you hear the children and women cry
where the Fascist bomb
makes the people's home
a tomb for you and me?
Can't you see the gashes in the street
where our people stumble
when the city trembles?
Can't you smell the rose held in their teeth
tighter than death?
Silent they lie
with no Cross
Only this
their courage, their faith
manures the barren earth
for new trees
to spring up the hill-side to the very sky.
That we should not hear at such a time
makes deafness and peace the bloodier crime.
Clive Branson