Police Scotland yet again targeted anti-fascist activists following a grassroots demonstration held in Glasgow's George Square on Saturday (20 June 2020) in a response to attacks on an asylum seeker solidarity protest earlier in the week.
Hundreds gathered in George Square for the 'Glasgow United Against Fascism' socially distanced demonstration which was backed by trade unions, community groups, the YCL and a number of campaigns. The protest was aimed at the reclaiming the square following scenes last Tuesday which included Loyalist mobs running amok.
Those gathered on Saturday observed strict social distancing and requirements to wear masks. There was once again a heavy police present from the outset, with the police seeking to dominate the square – in stark contrast to the carte blanche they gave to xenophobic counter protests earlier in the week.
The demonstration featured speakers from across the left and the labour movement including from Unite, the RMT and the EIS. The positively focused protest extended solidarity to asylum seekers, the Black Lives Matter movement and declare that George Square – the scene of watershed moments of the Red Clydeside period – would never be the property of the far right.
Only a negligible number of so called 'statue defenders' turned up at the advertised counter demonstration. They were completely obscured by a heavy policy cordon.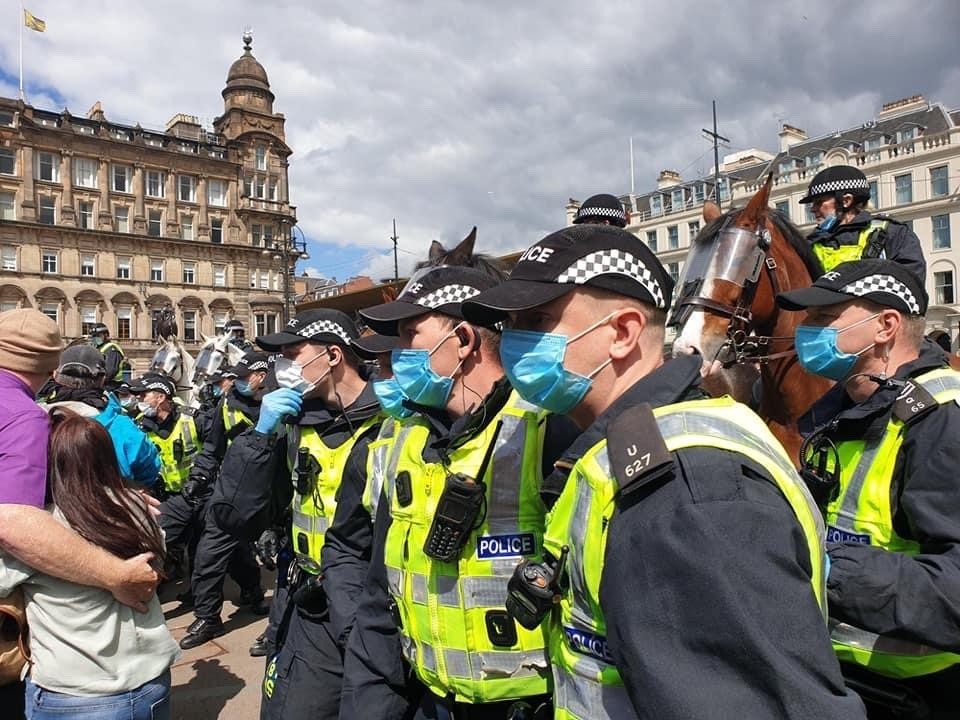 However as the demonstration drew to a close and protesters began to disperse in an orderly fashion, with no provocation whatsoever, the police swooped in to kettle a large group, including children and a priest. The police cordon forced a large number of demonstrators together into a tightly compressed circle, making distancing impossible.
The organisers issued a statement following the event which noted, "It was clear that the police made an attempt to single out a particular group within the demonstration for especially heavy-handed treatment, however we were heartened to see so many protesters come to their aid and unequivocally denounce the violent overreaction of the police."
The statement concluded "Whether trade unionists, community organisers or football supporters, we have collectively demonstrated out willingness to gather together in opposition to fascism. We will not be deterred by the transparent attempts to sow division in the anti-racist movement."
Challenge News Desk