Raymond Christie gives a first hand report from yesterday's (17 June 2020) End Hotel Detention demonstration in Glasgow and discusses the lessons to be learned for the left.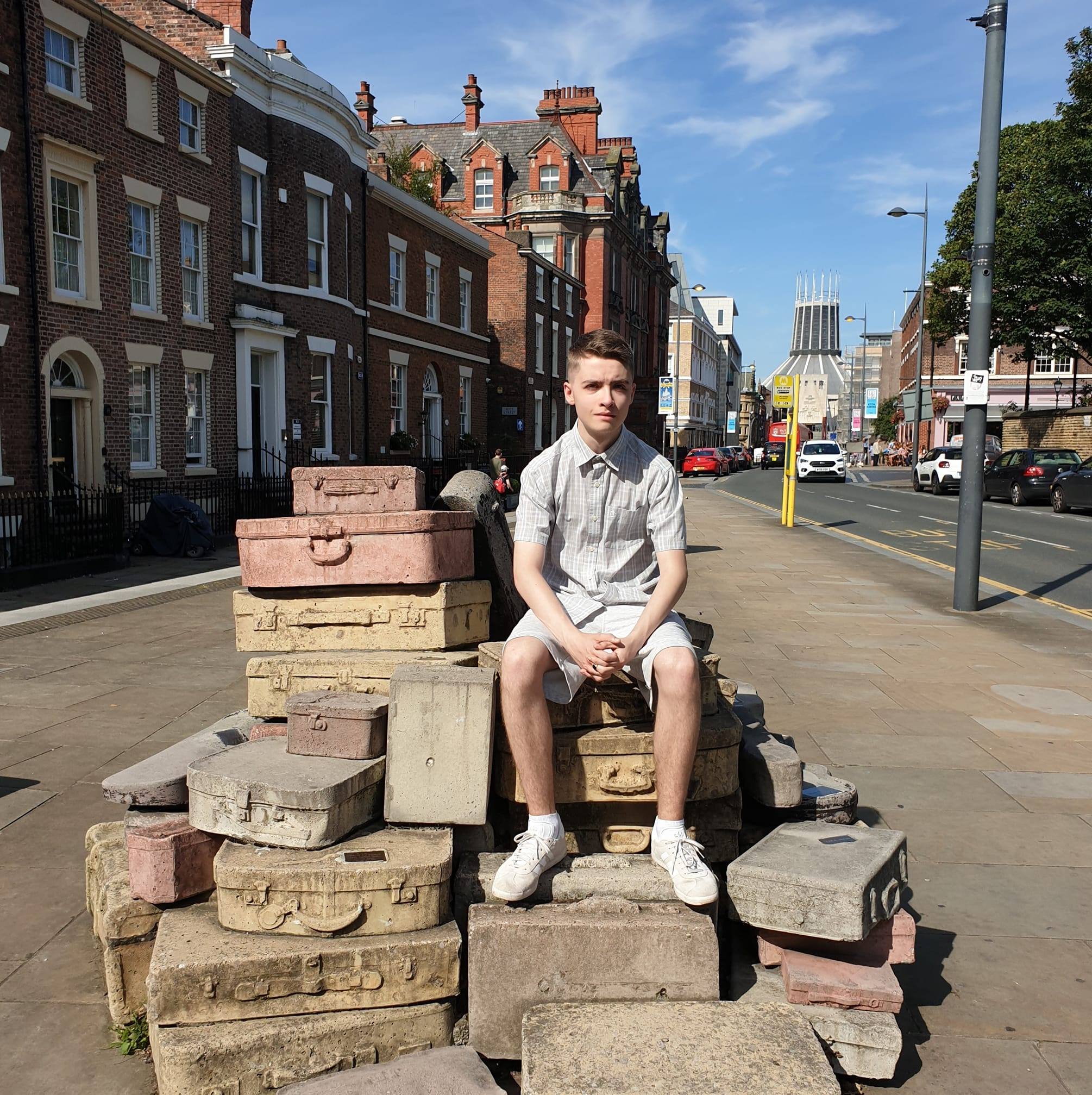 When there was word going around Glasgow that Loyalists were planning to counter-protest a demonstration by the No Evictions Campaign supporting asylum seekers in George Square yesterday, even those on the left otherwise used to far right mobilisations were surprised.
Information available indicated that the Loyalist counter protest would go ahead and their intention was to cause maximum disruption. The peaceful protesters of the No Evictions Campaign only had a few days' notice to get mobilised and put plans into motion for a defence. This called into question whether the organisers of the protest would call it off, but they made the right move by letting it go on.
The demonstration was organised by the No Evictions Campaign "in solidarity with people who have been refusing food in hotels they have been forced into by the Mears Group. People seeking asylum have been forcefully removed from their homes into cramped, degrading and unsafe hotels. They have had their financial support withdrawn. The food provided is substandard in quality, low in nutritional value and culturally inappropriate."
The counter-protests were organised by the so-called "The National Defence League" (NDL). This will ring a bell to many who will be aware of other groups with similar tags such as the English Defence League, Scottish Defence League and the recently materialised Loyalist Defence League (LDL). Why this group were the poster boy for this counter-protest isn't exactly clear considering. The initial expectation was that the counter-protest would include an assortment of various Loyalists, the LDL and fringe fascist groups. It may have been named as such as a show of unity from their side, which would be fitting for what happened later on.
Young Communists from our Glasgow and Lanarkshire branches joined protestors at the No Evictions Campaign in Glasgow City Centre. Typically a far right mobilisation George Square would be at most a 50 man mob and always outnumbered by left forces. However this wasn't the case yesterday.
The Loyalists counter-protest was at the square before the No Evictions demonstration arrived and had a strong hold over the area. Exact numbers are hard to give but there were probably 200 – 300 of them compared to about 100 or so no eviction protesters. The bulk of the Loyalist counter protest were clearly in town looking for a scrap. It was clear that the majority had been drinking heavily in town in the good weather. Far right protestors were clearly undetered by lockdown and social distancing measures with not a face mask in sight. Police were present in very high numbers suggesting they knew exactly what was going to go down, with riot officers and vans deployed.
The number of far-right demonstrators, especially compared to those on at the No Evictions protest is something uncommon in Scotland. As typically happens at these sorts of demonstrations, we were kettled into a small area of the square where we were particularity vulnerable and crushed in like a tin of sardines while the other side of the square was free for them to roam.
There were scuffles and scraps in the streets around the square with what seemed like hundreds of the Fascists running amok, charging in hordes and shouting "get those fenian bastards". Loyalists also reportedly attacked a food initiative for the homeless which was moved away from the square because of events.
The attitude of the Police at the square was to focus all of their resources and manpower on keeping us penned while giving space to racists to try and move towards us. Put this in the context of a pandemic this was particularly awful practice considering we were all condensed into a tiny space and could barely move. Even during the clashes the police did not restrict the freedom of the counter-protest, making sure the No Eviction protest and antifascists would have the hardest time possible, this was clearly no accident.
Possible collusion between Police Scotland and the LDL/NDL, which has branded them as grasses by antifascists over the last few days, and with proven links between Secretary of State Priti Patel and these groups being exposed just goes to show this is an accusation that holds ground. The NDL themselves even said in their call to arms that counter-protesters should "let the police do their jobs". This is not the usual language of a Loyalist knuckledragging street group. This should serve as a warning to others around the country wherever these events might transpire, especially during the Black Lives Matter movement's rise across Britain right now.
The Loyalist counter-demonstrators claimed to have opposed the asylum seeker protest on the grounds of protecting the cenotaph in George Square, as part of a wider chain of events involving people protecting monuments, memorials and statues from "vandalism" from BLM and anti-racist protesters. This is clearly not true. People had already been aware that the protest organised by the No Evictions Campaign was to demand that asylum seekers who are currently living in hotels (after being evicted from their original accommodation) to be moved into safe homes for their families. Although would cynically claim to be protect the city's cenotaph, this is just a sinister cover-up for their racist beliefs and an excuse to threaten a democratic protest standing up in solidarity with those who have had to flee war and devastation in their home countries.
It finished with 6 confirmed arrests, which is surprising considering the chaotic scenes in the square.  A gang of older Loyalists still stood on guard beside the cenotaph from the imagined threat and clashes still continued hours later in the city centre. What happened was obviously highly publicised on social with videos of men throwing Nazi salutes next to a war memorial dedicated to British soldiers who gave their lives in the two world wars and of men attacking people while shouting sectarian slogans.
The No Evictions campaign released a statement following the protest noting that "The far right presence at the square was clearly not there to protect statues but to intimidate and attack non-white people and their allies" and that "The police took an oppressive role in the organising and the actual events of tonight's demonstration, police liaison offices continually contacted and asylum seeker, who they falsely believed to be in charge of the protests."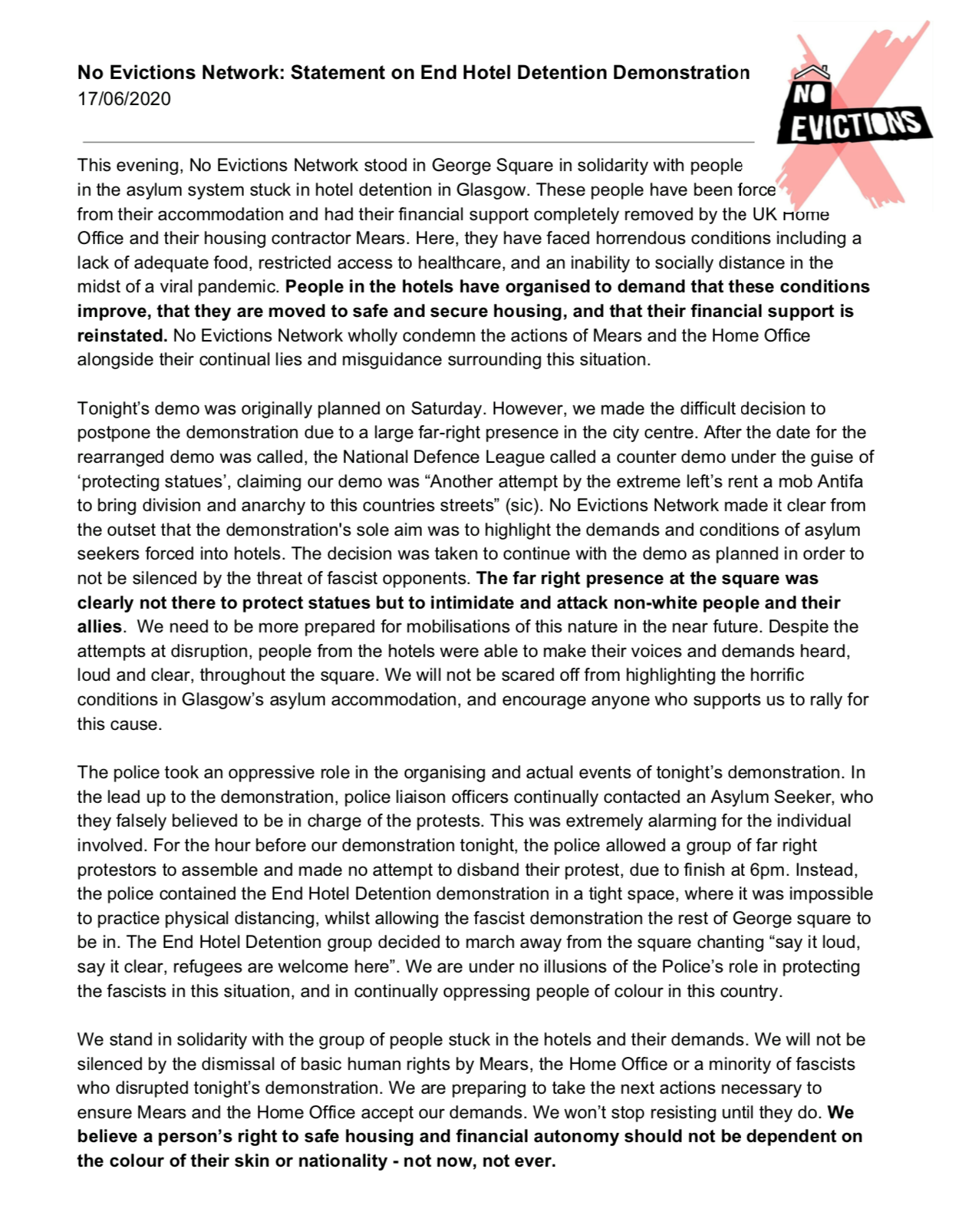 These scenes have been widely condemned by the people of our city, much more than previous far right demonstrations in Glasgow in recent memory This has all come at a time where Scotland and, Glasgow in particular is starting to sober up about its racist and colonialist past with many people becoming conscious of our inglorious past with the slave trade and systemic racism within this country. Amongst all the negatives of what happened, this is a great sign that times are changing for the better and that most Glaswegians reject bigotry of all shades.
What we can learn from this is that we can't underestimate far right and fascist groups and their ability to mobilise, they have a culture behind them in Glasgow that's built upon hate and division which can be used as a powerful tool in their favour to gather support and muscle for their cause. Loyalism must not be tolerated by us or the Scottish Government which have done so for too long, it must be seen for what it is – a tradition with racist and far right tendencies. The Scottish media's game of "both sides are just as bad as each other" must be called out by all of us if we want to truly acknowledge and stamp out sectarianism and racism from Scotland for good.
We also can no longer underestimate their ability to organise themselves effectively. All of us who call ourselves antifascists must adapt to this and think smart, build upon what we have and make sure they can never lay a patch on us again. Open dialogue with each other across the wider movement in how we can deal with the rising threat of the far-right and active work within our communities to create working class solidarity, can destroy prejudiced views and create a strong antifascist front.
We cannot fall into the victim mindset that is so prevalent within the left when things don't come our way. As working people, we must be resilient, persevere and learn. We are on the right side of history and we will win.
YCL Glasgow Branch wishes safety and good health to everyone who was present at the protest and antifascists on the streets yesterday, we also stand in solidarity with the asylum seekers still in hotel detention and with all refugees everywhere in the lead up to international refugees day!
Raymond Christie