Imagine a country where you couldn't go for a walk in the countryside, where public parks didn't exist, no footpath trails through woods or across hills and plateaus. Almost no public access to land.
This could've been our country. The government around the early 1900's attempted to implement this through the Enclosure Acts, which aimed to take common land and hand it in parcels to private landowners.
Many working class people would turn to exploring our countryside for leisure, forming 'rambling groups' and travelling out of the industrial cities via train, in search of fresh air, fitness, and the beauty of our green and pleasant land. But they would often come across resistance by gamekeepers who would deny access, send ramblers miles off course, and even getting into physical confrontations with them on behalf of the wealthy landowners. Wanted posters for ramblers were even distributed in Papers, offering rewards for the identification of the individuals depicted.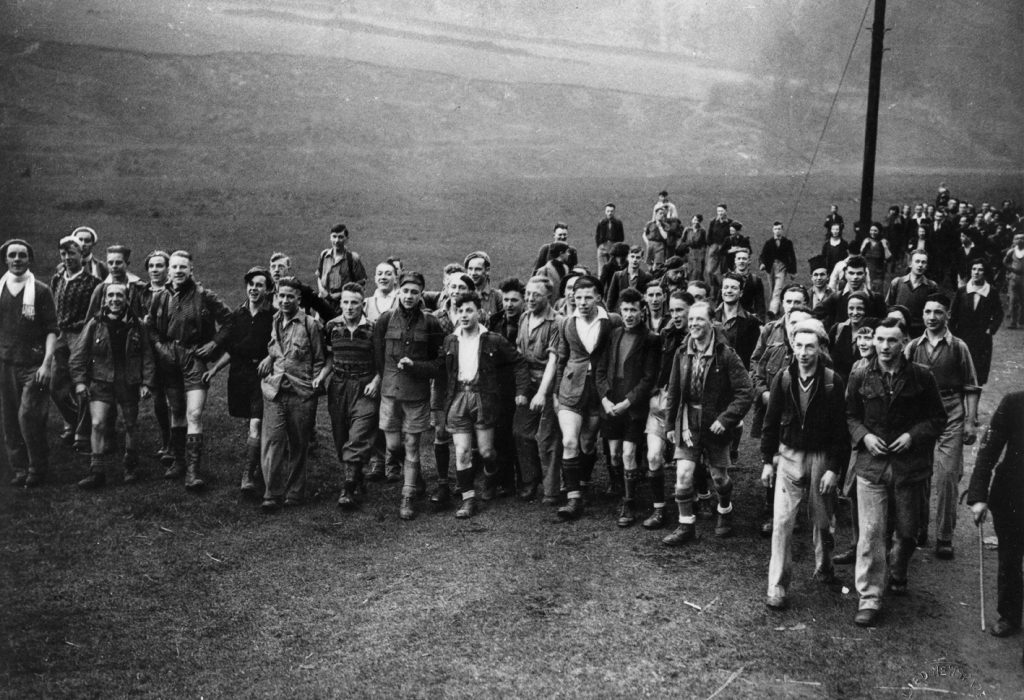 It was Easter 1930 that the British Workers' Sports Federation held their first camp near Manchester, and began to host more in order to introduce many young people from cities to the countryside. It was at one of these camps where many BWSF from London were turned away by gamekeepers, and the plan for an organised mass trespass began…
Coinciding relatively with the peak of unemployment hitting the industrial North of England, a mass trespass took place on Sunday 24 April 1932 at Kinder Scout, in the Peak District of Derbyshire. Against a stack of negative press opposed to it, and some Ramblers Association groups afraid of the backlash it could cause, 400 young men & women descended upon Hayfield. Under the leadership of YCL member Benny Rothman and his friends, they worked out their best routes and organised their way up Kinder Scout avoiding obstruction from a mass police turnout, and from the gamekeepers which were attempting to stop them.
Whilst singing & talking, they marched towards the plateau. Hosting a meeting along the way, Benny spoke to the masses about the history & injustice of enclosures as they stole common land from the people, and the fight for the passing of the Access To Mountains Act which would tackle this. They then carried on, with police at their tail, before scrambling up the face towards the top of Kinder Scout. 20-30 gamekeepers appeared about half way up, shouting and threatening the trespassers with their sticks, and attacking a few. Pushing them aside, they did not turn back, and carried on even more determined than before.
Approaching the top, they came across other groups from Sheffield & Manchester who had also trespassed from alternate paths via Edale, before hosting a victory meeting amongst them all.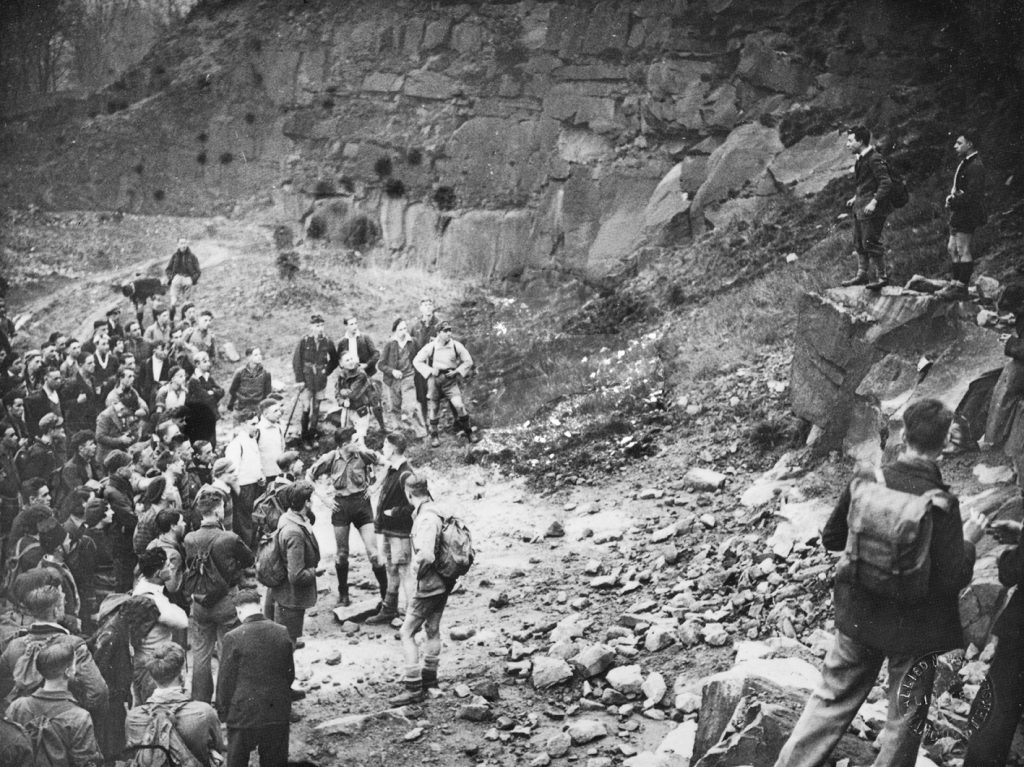 "We decided to go back as we had come, one strong, united body, and not disperse in all directions like a band of criminals. It was by no means a schoolboy prank with everybody trying to pretend they had not been involved. It was a demonstration for the rights of ordinary people to walk on land stolen from them in earlier times; we were proud of our effort and proudly marched back the way we had come…"

– Benny Rothman
It was an act of wilful trespass by ramblers and many members of the Young Communist League, to highlight the fact that working class walkers in England and Wales were denied access to areas of open country. Six arrests had been made by the end of the day, including that of Benny Rothman, five of which were charged with unlawful assembly and breach of the peace and were sentenced to between two and six months in prison.
But it was not done in vain, as many other protests took place following Kinder Scout, with growing numbers of supporters, and soon the National Parks and Access to the Countryside Act 1949 had been passed granting much of the public access to land which had been fought for. More recently this continued with the passing of the Countryside and Rights of Way Act in 2000.
The Trespass is looked back on as a watershed moment in the struggle of working people in Britain to access the countryside and our natural heritage.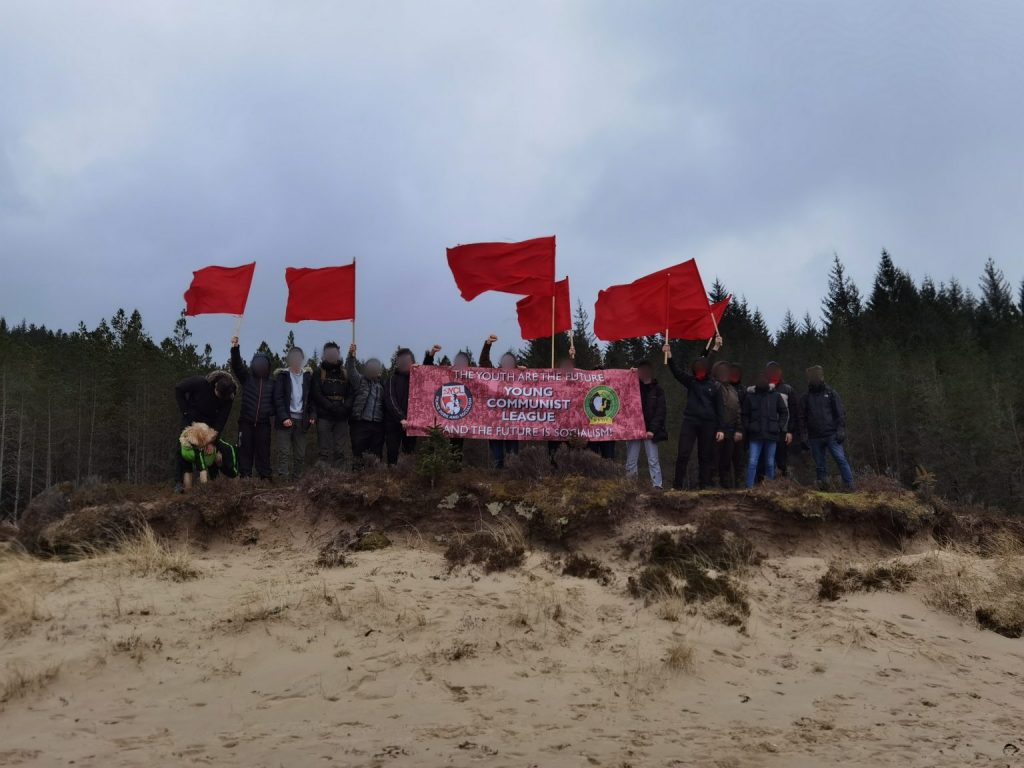 Although 90 years on, it is a fight which continues today against the growing private ownership of our countryside across England, Scotland & Wales. A fight which members of the Young Communist League of Britain will continue to play our part in. From our recent trespass in Scotland on the land of private owner Donald Houston, in support of Ramblers Scotland legal disputes with him, to any attempt to take away access to our clouded hills and mountains green.
"I'm a rambler, I'm a rambler from Manchester way.
I get all me pleasure the hard moorland way.
I may be a wageslave on Monday.
But I am a free man on Sunday."
Joe Weaver, is the AgitProp Officer of the YCL