Paleckis is a former diplomat, member of the Lithuanian parliament and vice-mayor of Vilnius. In July 2021 he was sentenced to six years in prison on the trumped-up charge of "spying for Russia" by the Šiauliai district court.
This was because Paleckis had been conducting research and seeking eyewitness accounts of the 1991 shootings perpetrated in Lithuania. He exposed how right-wing mercenaries had been responsible for the deaths of hundreds of Lithuanians during the anti-Soviet protests in 1991.
The Lithuanian authorities have been victimising Paleckis since 2011. He was originally incarcerated from October 2018 for intending to "kidnap prosecutors" and being a Russian spy. In April 2020 he was released and continued to serve house arrest.
For the new charges in July 2021, the prosecutor had sought nine years imprisonment for Paleckis, alleging that he had sold information to Russian intelligence in 2017 and 2018.
On behalf of the leadership of the Communist Party, YCL members also delivered a letter of protest to the Ambassador of Lithuania in support of his appeal, which was collected by the cultural attaché of the Embassy outside: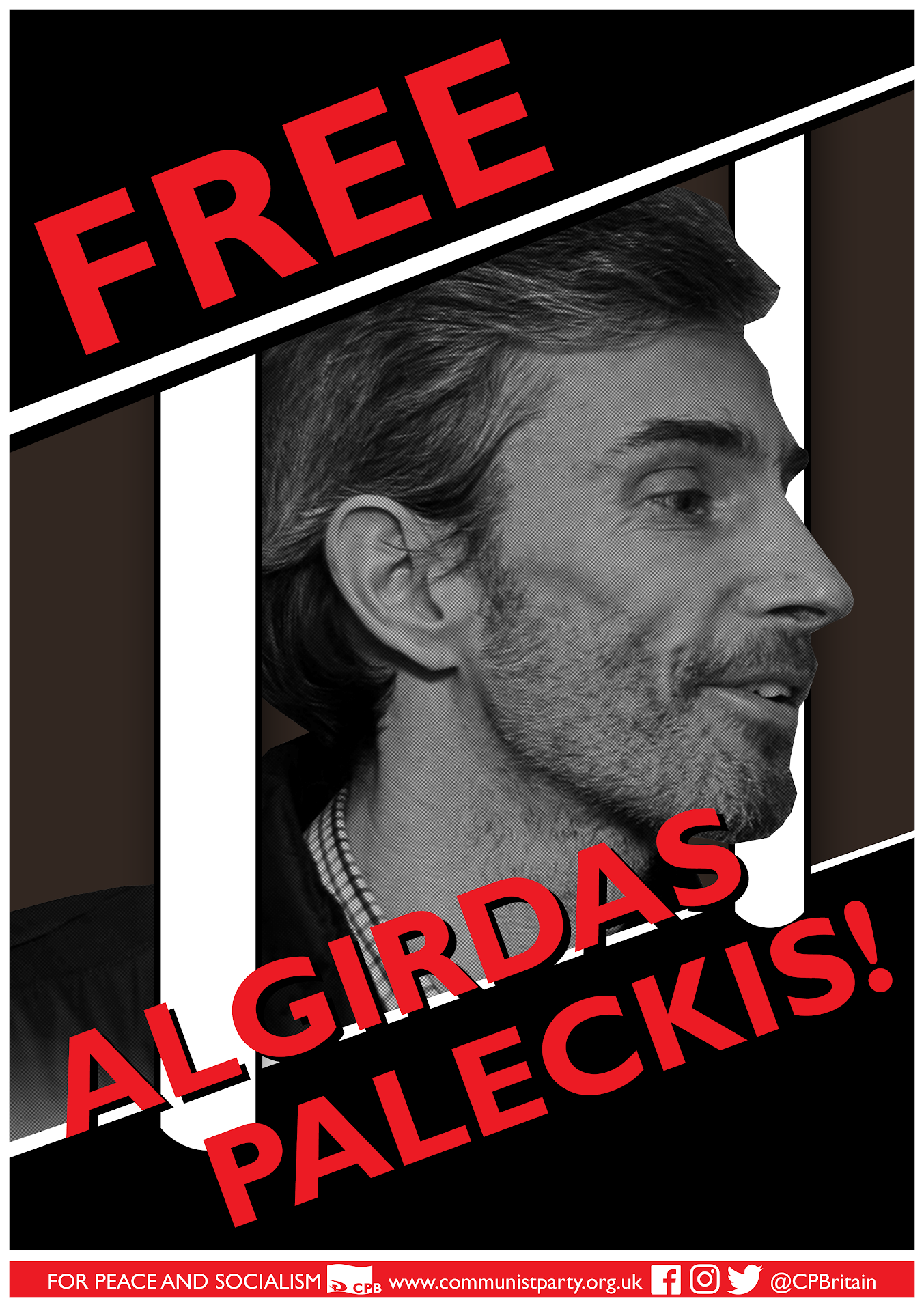 Appeal letter for justice against the six year prison sentence imposed on Algirdas Paleckis:
"I am writing on behalf of British Communists regarding the six year prison sentence imposed on Algirdas Paleckis for espionage earlier this year and currently under appeal.
The Communist Party of Britain asks you to convey to your government the support of British Communists for Mr Paleckis in his appeal.
The case against Mr Paleckis was that of espionage. Yet the evidence related to Mr Paleckis's quest to gather historical information, from first-hand eye witnesses, relating to events in 1991 in order to demonstrate that the lives lost were not primarily the responsibility of the then government of the USSR.
The imposition of a six year sentence for conducting such historical research represents a violation of all principles of justice.
We therefore call on the government of Lithuania to uphold the norms of due legal process and ensure that it defends the rights of Mr Paleckis and all others who wish to seek historical truth without fear of imprisonment."
The letter was signed by Robert Griffiths, General Secretary of the Communist Party of Britain.
Robin Talbot, is the Chair of the YCL and a member of the CPB's London District Committee