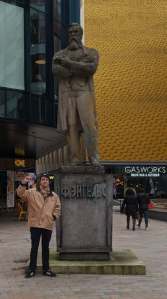 G7 leaders from across the world have travelled to Carbis Bay, near St Ives in Cornwall as talks continue across the weekend, with Covid-19 vaccines and the environment high up on the agenda.
The G7 brings together the largest capitalist economies, from Canada, France, Germany, Italy, Japan, the UK and the United States. Russia joined to form the G8 but has since been excluded. Other leaders have also been invited this year, including the far right leader of the BJP in India, Narendra Modi, who will attend virtually, while Ursula von der Leyen will represent the European Union.
The elephant in the room for many of the leaders remains China, who continues to be excluded from discussion despite building the largest economy in the world in less than a century. Joe Biden, on his first international visit since being inaugurated as President of the United States in January, is expected to call for further sanctions on the Chinese government. The two nations remain in the midst of a trade war with fears continuing over a developing Cold War between NATO countries and China.
Japan is the only G7 nation that is not a member of NATO and the military alliance has made clear its intention to ramp up pressure on the Chinese people.
Back in Cornwall, there have been a number of arrests, although protests have been markedly less prominent than in recent years, likely due to fears related to the pandemic. Protests are expected to escalate as the weekend develops, with protesters focusing their attention on the environment, and the Policing Bill.
Owain Holland, former YCL General Secretary, who was born and lives in Western Cornwall said "It's sickening to see the world's rulers, with all their entourage, have a militarised jolly in West Cornwall at a time when the people of Cornwall have never been worse off in modern history. Fencing out Cornish people from significant parts of their own land and bringing down a police state upon the locals is bad enough but turfing out homeless people from nearby hotels probably has to take the biscuit. Imagine what the capitalist press would be saying about this if this were China."
More than 5,000 extra officers have been drafted in from around the country to police the event. The cost of this, if in line with the two previous summits held in Britain, will likely exceed £70m. The police have attempted to create acceptable protest zones, one of which is in Exeter, over 100 miles away. Protesters have understandably made clear their intention is to disregard these spaces.
Extinction Rebellion have planned a number of demonstrations across Cornwall including a march from Plymouth to Carbis Bay. Their tagline for the protests is G7 Cornwall Rebellion: Drowning in Promises. Full details here.
Last week, G7 chancellors and finance ministers signed an agreement targeting tax avoidance on a global scale. In addition, they have agreed to implement a minimum global corporation tax as part of a global attempt to make corporations pay their "fair share" of tax. It has to be noted that the G7 itself has no power, but it's intentions serve as an important indicator for future policy developments.
As with all these things, the proof will be in the pudding. The rhetoric of these leaders is useless if it does not seek to improve the lives of working people globally, and no amount of crocodile tears will prove otherwise.
The G7 has long been associated with imperialism and it's alliance with NATO forces is evident. It has made positive steps to mitigate climate change and extreme poverty in recent years but this underlying fact cannot be ignored. The G7, whether operating from Cornwall or New York remains a force for global capitalism and neoliberalism.
These talks will offer a clear indication of the West's priorities for any Covid recovery, as well as their intentions to expand vaccine roll-out to much of the Global South. Boris Johnson is expected to hold a press conference on Sunday announcing some of the discussions although much of it will remain a secret.
Peter Stoddart