Louie Gibson writes on the neoliberal sterility of the Edinburgh Fringe Festival, contrasting it with the former Edinburgh People's Festival and the city's working class history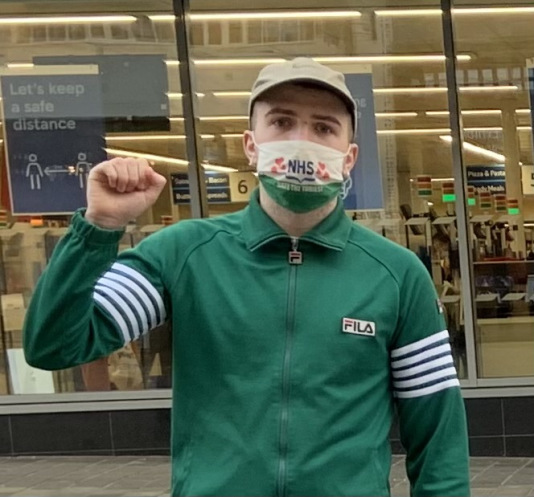 2021 will see the 105th anniversary of the 1916 Easter Rising and the death of Irish socialist-republican James Connolly. Connolly was born and raised in the Cowgate area of Edinburgh known as "Little Ireland". Connolly should be celebrated as one of the city's finest sons however many in Edinburgh have no idea who Connolly was. While Glasgow is seen as Scotland's capital of working-class radicalism with the Red Clyde-side and the UCS work-in, Edinburgh has a radical history of class struggle to match any city.
Edinburgh has always historically been a class-divided city, and Connolly was no stranger to this. Writing on the state of Edinburgh, Connolly wrote that "The population of Edinburgh is largely composed of snobs, flunkeys, mashers, lawyers, students, middle class pensioners and dividend-hunters." This is even truer a century later as the Scotland's capital city has become a city of Capital.
Edinburgh is a physical schism of inequality. Despite being Scotland's wealthiest city, social problems such as homelessness, drug addiction and lack of affordable housing still plagues Edinburgh. The Cowgate area where James Connolly was born along with other areas in the city centre, which were once areas full of the city's working-classes teeming with life, are now shells of their former selves as high rents and exploitative landlordism has taken over. The Covid-19 pandemic exposed the fact that the city of Edinburgh Council has been complicit in letting Air BnBs and short-term lets run rampant in the city's centre as Edinburgh's citizens are forced to move to the fringes of the city mirroring the housing situations we see in Paris and London. The City of Edinburgh Council's laisse faire approach has a material effect for the cities masses and therefore alienates its working-class citizens from arts and culture in the city. There is no clearer example of this than the Edinburgh festival.
Both established in 1947, the Edinburgh Fringe Festival and the Edinburgh International Festival put Scotland's capital on the map. However even in its early years the Edinburgh International Festival was not a hit with everyone in the post-war era. Many working-class punters felt disconnected from the festival in August. As a result of this the Edinburgh's People's Festival was established in 1951. This festival was founded by the Scottish poet and songwriter Hamish Henderson, with the backing of the Edinburgh Trades Union Council, the Miners' Union, and the Labour and Communist parties. Henderson realised that arts should not be neglected by working people, he believed in bringing the arts to ordinary people, not leaving it to the city's elites, who he dubbed the "Edinbourgeois". The People's festival was a credit to Scottish communists, and Fife Communist MP Willie Gallacher was a speaker. However, the festival suffered from the plague of McCarthyism as it was seen as a front for the Communist party. It ended in 1954 amid a lack of funding and support from the union lobby. Almost 50 years later the People's festival was revived in 2002. (Once again by socialists, communists and the Edinburgh trade union movement.) It is intended as a celebration of indigenous talent and cultural entertainment at venues across the city, especially in the outer schemes at prices everyone can afford.
While the People's Festival ended in 1954, its influence continued to be felt. It laid the groundwork for the Edinburgh Fringe Festival and Hamish Henderson is now widely regarded as the founder of the Fringe. However, today's Fringe festival would have Henderson turning in his grave. Established on egalitarian ideals and once an "anarchic bohemian bonanza, a haphazard display of thespian chaos which exploded spontaneously in and around the city." The Fringe is now a celebration of corporate greed, neoliberalisation and social cleansing of areas of the city.
Today's Fringe has fallen victim to monopoly capitalism with a few companies now making Edinburgh's city centre their corporate playground. Since 2011, Virgin Money have had full rights over the city's High Street with performers now having to book slots to perform via Virgin Money. However, the chief contributor to the demise of the Fringe festival and culture in Edinburgh is Underbelly. Started by Etonians Ed Bartlam and Charlie Wood in 2000, they were awarded Edinburgh's Hogmanay contract in 2017. This contract has resulted in Underbelly walking all over Edinburgh council as they set up the Christmas markets without having planning permission in 2019. Underbelly also came under criticism for telling residents who lived in certain areas of the city centre they will need to have wristbands to enter and leave their own homes. Along with this Underbelly attempted to commercialise the sea as they attempted to charge for the New Year's day 'Loony Duke'. Edinburgh council has been complicit in allowing parasitical companies and investors swoop into Edinburgh taking so much and giving back so little. This was seen even further when Underbelly pocketed £2 million for their faked Hogmanay lights display. This money which was a public subsidy, contained £800,000 from Edinburgh city council showing that Underbelly's stranglehold on Scottish culture knows no bounds.
However, despite Edinburgh's neoliberal façade, radical tradition still remains. In early 2018, Drum Property Group proposed plans for a large student accommodation block as well as a hotel on the site of Stead's Place in Leith Walk which hosted pub, the Leith Depot and other businesses, some which had been there for 60 years. These plans rightly had citizens of Leith up in arms, and campaign group 'Save Leith Walk' was founded. This highly successful campaign which got signed support of almost 16,000 citizens and managed to get the Edinburgh City Council to reject the developer's plans, showed the way for putting a stop to corporate developers swooping into communities with no intention other than profiting at the expense of working people. Save Leith Walk showed the radical tradition Leith still has, this tradition that was at the heart of the Leith Docker's Strike of 1913, that voted against joining Edinburgh in 1920 and that Connolly himself commented on; "The overwhelming majority of its (Leith's) population belong to the disinherited class… and might therefore develop socialistic sentiments."
Along with Save Leith Walk, Helping Hands Edinburgh which ran from 2014-2020 showed the might of working-class organising. Despite no state or third-sector funding, Helping Hands offered free sports and fitness classes for kids all over the city. They also delivered thousands of Christmas toys every year as well as free bikes to working-class areas around the city, and in 2020 during the Covid-19 pandemic delivered thousands of food parcels for months on end. All of this done on no salaries, volunteer led activism, based on the motto of solidarity not charity.
Edinburgh is currently at a tipping point, the Covid-19 pandemic has highlighted the effects of neoliberal politics, culture and policies has done to the city. While Edinburgh's workers from delivery drivers to nurses toiled through the pandemic, the cities bosses and elites profited from state subsidises and exploitation. Living Rent Edinburgh have been at the forefront of fighting landlordism in the city and have now declared Edinburgh to be in a rent emergency. Edinburgh's council has a decision to make. Continue to fail the city's working-class communities and submit to profit and capital or pursue a different kind of local government as seen in North Ayrshire's 'Red Council'. History suggests the council will choose the former.
Therefore if you are interested in socialism and holding local and national governments to account, get active and join the YCL.
Louie Gibson
Sources
www.desmondgreavesarchive.com/books/james-connolly – Bing