Readers of the Morning Star this weekend will have again seen the paper excluded from Government advertising. This is the second string of advertising from the Government which has seen the Morning Star shut out from crucial funding.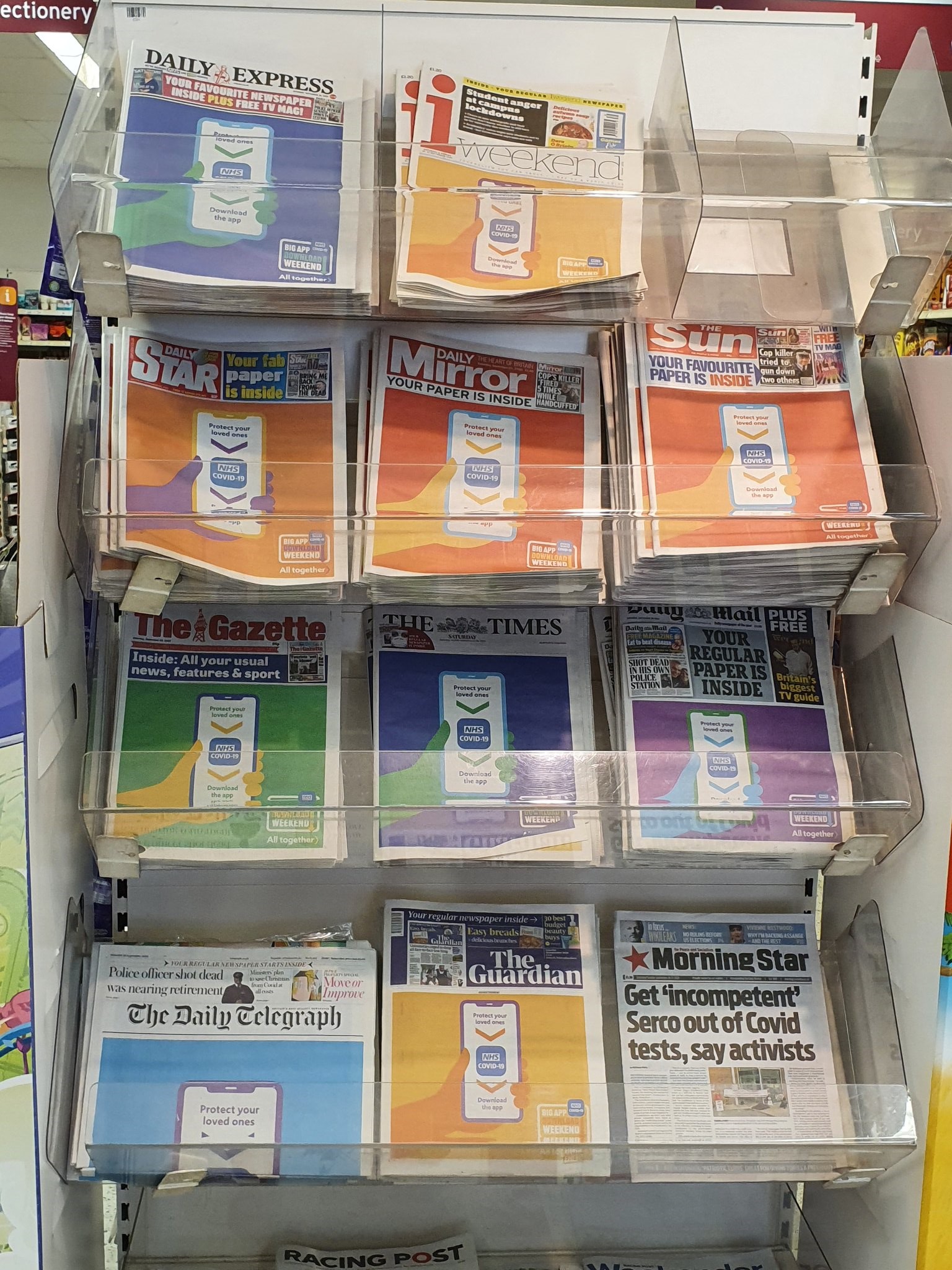 The public health advertising serves two essential purposes. Firstly, and most obviously, the advertising is to promote the new tracing program launched by the UK Government in England and Wales. The program has so far been downloaded over a million times. Similarly in Scotland, the parallel app, launched earlier in the month has been downloaded over a million times.
More covertly, the advertising also offers newspapers crucial funding as sales continue to drag. The already faltering industry has had a particularly tough time throughout the pandemic, as sales dropped with fewer people working in offices and so on. In August it was revealed that Public Health England spent £44m on advertising, a 5,000% year-on-year increase from last year. Part of this has helped to bolster newspapers from the worst of the crisis as other advertising streams were curtailed.
The Morning Star has also seen sales dip dramatically as less people are travelling, and trade union offices, who often buy multiple copies every day, have remained shut. Nonetheless, the Government, perhaps unsurprisingly, has refused to offer this key support to the Star.
The crucial reason being, it refuses to toe the line of either the Government or the official opposition.  The front page article in the Star this weekend highlighted the corruption at the heart of the tracing program which has seen Serco awarded over £100 million in public sector contracts. Despite this, the Firm have failed to contact thousands of people, the Star reported.
On Twitter, the paper wrote "Once again the Morning Star Is excluded from government public health advertising. Ministers won't support the only socialist and cooperatively owned daily – we rely on our readers and friends. Buy it today!"
Nonetheless, the Paper is moving from strength to strength and has raised over £360,000 this year through its 90th Anniversary appeal, its emergency Covid appeal and its regular monthly Fighting Fund. Keith Stoddart, who runs the Fighting Fund, said "While the establishment press are awarded millions from the Government, the Morning Star is denied access. In response, our loyal leadership have risen and exceeded their typical generosity and the Morning Star shines as bright as ever".
While the Government refuses to support the Star, its readers have stepped up, and you can too. Donate to the Fighting Fund here to support the only English language Socialist Daily in the world.
Challenge News Desk