The Prime Minister of Barbados, Mia Mottley, announced the country's intention today to remove Queen Elizabeth as its head of state and become a republic before the end of next year in time for the 55th anniversary of independence from Britain.
"The time has come to fully leave our colonial past behind," the Caribbean island nation's government said.
Barbados is the first country since the turn of the millennium to r remove the Queen as its head of state. The last to do so was Mauritius in 1992.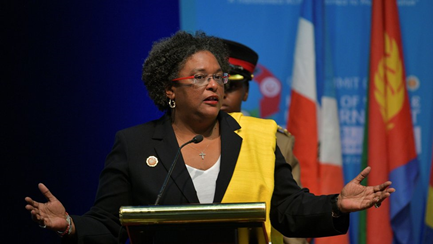 Mottley's explicit discussion of the colonial role of Britain in the Caribbean is welcome, and highlights the wider shift that is taking place across the world.
Following the announcement, many drew comparisons between the BLM movement in the US, and the Barbadians decision today. Some commentators argued this was the "Globalisation of BLM".
Many are also speculating if this decision could spur on further republican movements across the Caribbean. In the past, Jamaica, among others have declared their intention to remove the British Monarch as their head of state.
The YCL here in Britain, along with the World Federation of Democratic Youth (WFDY), have repeatedly called for the abolition of the monarchy, which remains a symbol of Empire and colonialism. While the debate over statues continues, the situation in Barbados highlights a key area where we can create change beyond the raging culture war.
Peter Stoddart