Recorded in 2019, 'We Live Here' is a raw and uncompromising 8-track album described as "too extreme" and rejected by many within the UK music industry for it's lyrical attacks against racism, police brutality, and class inequality. The duo – comprised of Bobby Vylan and Bobb13 Vylan – were forced with no option but to self release their record via Bandcamp in June. A timely release one could say with the rise of Black Lives Matter protests around the world after the murder of George Floyd, however rather than being prophetic of what was to come instead they reflect the material reality of what working class black people have gone through on a daily basis for many many years. The fact that more people are paying attention now is the difference, and it certainly has benefited this release as within 2-3 months at least 4 different vinyl pressings of it have sold out almost as soon as they have been made available, an astonishing feat for an independent self released artist. Their gamble to reject releasing the album fully on streaming platforms such as Spotify, and instead make it available only from Bandcamp, has certainly paid off.
The combination of Punk and Grime creates a unique and unmatched style that hasn't been successfully attempted since brief moments of metal and rap crossover in the early 2000's. It would be easy to compare their music to Rage Against The Machine, but also lazy, as politically Bob Vylan are much clearer with their message exposing the inequalities and injustice of modern society, as well as being musically very very different. The title track 'We Live Here' is a bombardment of distorted guitar pairing with unwavering lyrical truths about the discrimination non-white people face with the assumptions that they are not English, that they are not from here. It's a difficult listen at first with its use of racist and homophobic language, but very necessary in its exposure and dismantling of those hateful views, and you'll easily find yourself playing again immediately after finishing.
With 'England's Ending' they offer a short commentary on the crisis and contradictions of capitalism within England, a country that's reaching boiling point with the worst still to come, while 'Pulled Pork' – featuring Jason Aalon Butler of Fever 333 – is a clear attack against the institutionally corrupt Police force and it's treatment of working class communities.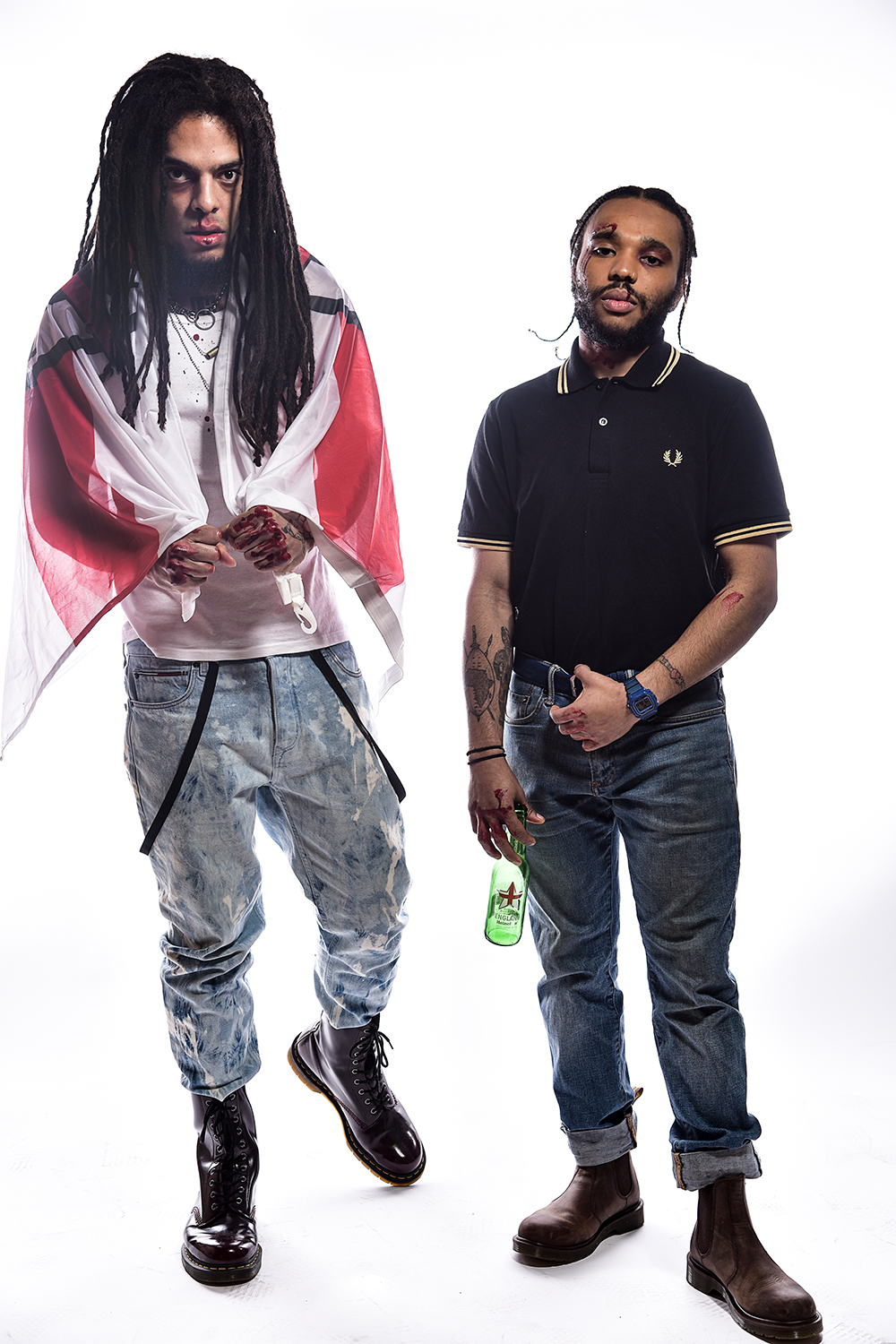 The mantra of 'Lynch Your Leaders' will have even the biggest pacifists repeating it, before gently building up to a commentary on the devastating abuse of xenophobic press headlines and the harsher judgement of the crimes of black working class youth. With the explosion into their track 'Northern Line' they explore the alienation of workers and the mistrust of people who commute around the London Underground. A hangover from the 7/7 attacks, coupled with the racial violence that is time and time again exposed on our public transport, and accidentally channeling the fears of commuting under the conditions of the Covid-19 pandemic. The viral murder of Belly Mujinga comes to mind, the Underground Ticket Officer who was coughed and spat on by someone claiming to have Covid-19, and further highlights that it isn't just Police violence which is used to kill the black working class, but the exploitation of workers themselves under dangerous conditions.
The penultimate track 'Save Yourself' is closer to a classic punk tune in its pace, while offering the instruction to take things into your own hands, that the government cannot offer the assistance you need to get by and that it is solely up to you. Right in a sense about the over reliance on systems which people often know very little about, but sadly missing the biggest weapon the working class possesses against the ruling class: solidarity and strength in numbers. Wrapping up with 'Moment of Silence', a silent track until the end which features Bob Vylan's young daughter declaring that the album has finished while hilariously reminding you not to forget that "the Queen killed Diana!". A glimmer of hope out of the mouth of babes after such a savage and brutal reflection of our modern society.
Once music events resume again it's inevitable that Bob Vylan will find themselves a bigger audience than ever before turning up to their shows, screaming the lyrics back at them, fixated on every word. I for one cannot wait and will see you at the front.
Bob Vylan's 'We Live Here' is out now and available via BandCamp: https://bobvylan.bandcamp.com
Joe Weaver