Our March by Vladimir Mayakovsky, 1917.
Vladimir Mayakovsky (1893-1930) was a Bolshevik revolutionary and came to be one of the most celebrated communist poets in the Soviet Union and internationally. He was also a talented playwright, artist and actor who used art as a medium to convey the politics and ideals of the new socialist state.
Mayakovsky was born in the small Georgian village of Bagdadi, then part of the Russian Empire and renamed after its most famous son between 1940 and 1990. He had already started working with the local Social Democrats by the time of the 1905 Revolution, joining the Bolshevik faction when he moved to Moscow a couple of years later. He did propaganda work for the party until his arrest in 1908, which resulted in an 11-month imprisonment. After imbibing culture aplenty inside prison he became one of the most visible members of the Russian artistic scene.
Mayakovsky embraced the October Revolution, putting his talents at the service of the nascent state. Although a passionate revolutionary and communist, Mayakovsky did not shy away from pointing to the faults of the young Soviet system, writing The Bedbug, a 1928 play criticising the years of the New Economic Policy while holding out hope for a communist future. He went further in The Bathhouse two years later — originally falling foul of the censors, a reworked version was critically panned.
A fiery and passionate individual to the last, Mayakovsky sadly shot himself in 1930 following a dispute with his lover, though the circumstances of his death are disputed. Mayakovsky's funeral on 17 April 1930, was attended by around 150,000 people, the third largest event of public mourning in Soviet history, surpassed only by those of Lenin and Stalin.
*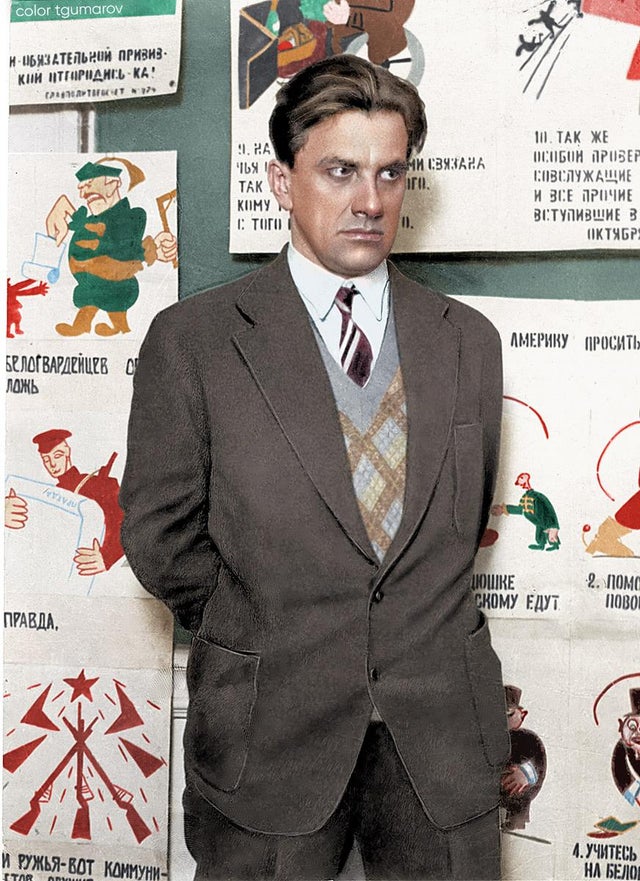 Beat the squares with the tramp of rebels!
Higher, rangers of haughty heads!
We'll wash the world with a second deluge,
Now's the hour whose coming it dreads.
Too slow, the wagon of years,
The oxen of days — too glum.
Our god is the god of speed,
Our heart — our battle drum.
Is there a gold diviner than ours/
What wasp of a bullet us can sting?
Songs are our weapons, our power of powers,
Our gold — our voices — just hear us sing!
Meadow, lie green on the earth!
With silk our days for us line!
Rainbow, give color and girth
To the fleet-foot steeds of time.
The heavens grudge us their starry glamour.
Bah! Without it our songs can thrive.
Hey there, Ursus Major, clamour
For us to be taken to heaven alive!
Sing, of delight drink deep,
Drain spring by cups, not by thimbles.
Heart step up your beat!
Our breasts be the brass of cymbals.
Vladimir Mayakovsky