Vietnam had no new COVID-19 cases to report this morning (25 May 2020), meaning the socialist country has remained clear of community transmission of the disease for 39 consecutive days, according to Vietnam's National Steering Committee for COVID-19 Prevention and Control.
The Committee's treatment subcommittee reported that 267 out of the total 325 patients have given all-clear from the disease, and with zero deaths. This achievement is made all the more impressive by the fact that Vietnam shares a substantial land border and close links with China.
It added that 185 cases were imported and quarantined upon arrival in Vietnam, so there is no risk of community transmission.
At present, 58 patients are being treated at centrally and locally run medical facilities, of them seven tested negative for COVID-19 once, and four for the virus twice or more. As many as 15,412 people having close contact with patients or entering Vietnam from pandemic-hit regions have been quarantined at hospitals, concentrated quarantine establishments, and home.
Implementing the direction of Prime Minister Nguyen Xuan Phuc, Vietnamese agencies in Europe and Africa and national flag carrier Vietnam Airlines on 23 and 24 May conducted flights bringing home safely over 300 Vietnamese citizens.
The flights ensured security, safety and preventive measures against COVID-19. After landing at Ho Chi Minh City-based Tan Son Nhat International Airport, all passengers and crew members were given medical check-ups and quarantined in line with the country's regulations.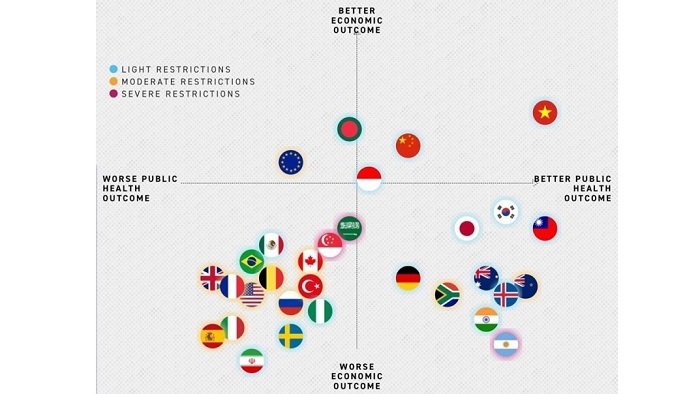 The US news website Politico has ranked Vietnam the best performer worldwide in the fight against COVID-19. The ranking is based on the COVID-19 impacts on public health and economic outcomes.
Politico has mapped the performance of 30 leading countries by plotting their health and economic outcomes and grouping them based on whether they have instituted light, moderate or severe restrictions.
Vietnam is a frontrunner regarding both public health and economic outcomes. Vietnam had recorded only approximately 300 cases out of a population of 95 million, without any deaths, Politico said.
The country's economy is predicted to grow by 2.7% in 2020, making it the overall best COVID-19 performer globally, it added.
Challenge News Desk