Prostitution
Sex work refers to a broad variety of sexual services varying in harm; webcamming, porn, stripping, escorts etc. While it does also include the selling of women's bodies for sex, that is simply one aspect of what a sex worker's 'job' might be, to liberal feminists at least.
It is also a gender-neutral term that includes those few male participants, which is one of the key reasons that liberal feminists push for the wide use of this term; to be inclusive.
On the other hand, prostitution is a heavily gendered term which relates to exclusively the sale of women's bodies for sexual services. Prostitution (and also sex work), is directly related to the commodification and sexualisation of women's bodies, which enables them to become a unit of consumption. It is distinct from the wider forms of 'work' and thus, is heavily exploitative in nature.
Kollontai referred to prostitution as: "a phenomenon which is closely linked with unearned income, and it thrives in the epoch dominated by capital and private property" She defines prostitution as separate from work, rather, as the selling of women's bodies, referring to an exchange that is especially exploitative in nature, and unique to the material oppressions of women hence linked to their unearned income. Therefore, the description of work is inappropriate, as prostituted women are exploited in uniquely different ways from the average worker exploited under capitalism.
Moreover, the term sex work attempts to make prostitution more palatable by reducing its perceived harms through removing the stigma. While some women, for which this is a minority of cases, sex work, i.e. Only Fans, cam work, sugar babies, may have briefly positive experiences with prostitution, these do not represent the majority of sex trafficked and exploited women who suffer.
These women, who often control the mainstream narrative surrounding sex work, are usually white, western women, and can even include pimps and paedophiles as they are deemed to facilitate the sale of sex. Thus, this demonstrates that the guise of inclusivity, under which the campaigns for sex-work-based policy are pushed, are incredibly limited and do not reflect the true harms associated with prostitution.
While, it is not to say that modern Western notions of sex work are commendable and feminist – they are not – we must still differentiate and prioritise prostitution from this in order to push for change which benefits those most at risk. When defining prostitution as such, we aren't changing the nature of prostitution, simply labelling it for what it is, which accurately reflects the harms associated. By doing this, it is not an attempt to alienate those women who are involved in (supposedly) less harmful forms of sex work, as we should be empowering them to break free from such sexually exploitative activities.
The experiences of prostituted women are unique from other forms of sex work, and so should be prioritised when considering policy. The harms of being in sexual contact with, often dozens of 'punters' per day, has wide ranging harms for those women involved and can include; "risk of STIs, unwanted pregnancy, unprotected handling of bodily fluids, degrading, painful and even tortuous sex, vaginal and anal tears, high risk of PTSD — not to mention the significantly increased risk of rape, assault and murder". At least 85% of those sold and brought in prostitution are female, while virtually all punters are male.
Those 15% that aren't female are often young boys or gay men, rather than being straight men over the age of consent, are still marginalised and oppressed groups. Pimping is common and only reinforces these harms, as they often engage in sex trafficking and force women into sex with threats and coercion, at a healthy payment to them at an average of 70 pounds per woman. Prostitution is unequivocally paid rape, as consent is not able to be given freely and enthusiastically, and legal and social frameworks for consensual sex should never condone that it is normal and acceptable that sex in exchange for money is justified. Access to sex or pornography is not a human right and should only been exchanged through two willing and consenting individuals, without external influence. Sex outside of this, indicates a power dynamic on one party.
Porn
Porn and prostitution are indistinguishable from one another. Often, pornography is simply the filming of prostitution, where trafficked women are also coerced into sex for money.
Large porn sites, like PornHub are complicit in sex trafficking and child pornography, not to mention widespread rape and sexually abusive content, however this is not exclusive to PornHsub, rather a commonplace aspect of porn generally. This definition should also be extended to women who upload pornographic material to a paid for platforms, like OnlyFans. Platforms like OnlyFans have been argued by liberal feminists to be empowering for women, who are reclaiming their own sexuality. However, this is fundamentally ignoring the purpose for which it serves patriarchal and capitalist societal structures that profit from the subordination of women (especially sexually), as well as the commodification of women's bodies for capital.
It is not empowering nor radical, to engage in an industry which profits from the sexual framework that does not put women's sexual pleasure into the forefront, rather reinforces the sexual subordination of women and centres male sexual desire. This is shown for the vast demand for women, from men on these sites (contrary to the liberal narrative), as women are the top earners with men being the top buyers, thus mimicking traditional prostitution exchanges. Therefore, widespread access and acceptance of porn legitimises the sexual objectification and commodification of women's bodies and under no uncertain terms is porn ever feminist. Andrea Dworkin summarised this in her Testimony to the Attorney General's commission on pornography (1988) "pornography is a civil rights issues for women because it sexualises inequality, because it turns women into subhuman creatures".
Solutions
One solution that many pro-sex work voices often give, is for sex workers to unionise. As socialists, this naturally seems like a positive organising tactic for all workers, however, there are central flaws to this method. Hence, to recap on the aims and achievements of unions; they demand worker's rights, e.g. fair pay, good working conditions, paid holiday etc. This can only be achieved for prostitutes when they work under organisations which have the means to be held accountable in order to secure these goals. This legitimises pimping or brothels essentially, which is incredibly undesirable and exploitative.
This is not desirable for a Marxist feminist approach; we should be seeking to liberate women from such oppressive lifestyles, rather than seeking them as long term goals. Prostitution is not, and should never be considered work, and so by legitimising it with a union status, we are hence legitimising the oppression of prostituted women.
Another common solution that has been supported by many Western countries, is the 'Nordic Model', otherwise known as sex-buyer law. This approach to policy seeks to criminalise the purchasing of women's bodies for sex, while prostituted women remain decriminalised, in an attempt to curb the demand for sex trafficking by increasing the social stigma.
In conjunction with this, the Nordic Model also seeks to provide exit strategies for prostituted women, in order to attempt to combat the material conditions that push women into prostitution. However, the Nordic model is limited in its attempts at reformism, which fail to acknowledge the capitalist and patriarchal exploitation which provides the conditions for prostitution to occur. To quote Dworkin once again: "prostitution comes from male dominance, not from female nature…. Male domination needs to be ended, not simply reformed, not made a little nicer, and not made a little nicer for some women." Life and Death (1997).
Soviet Union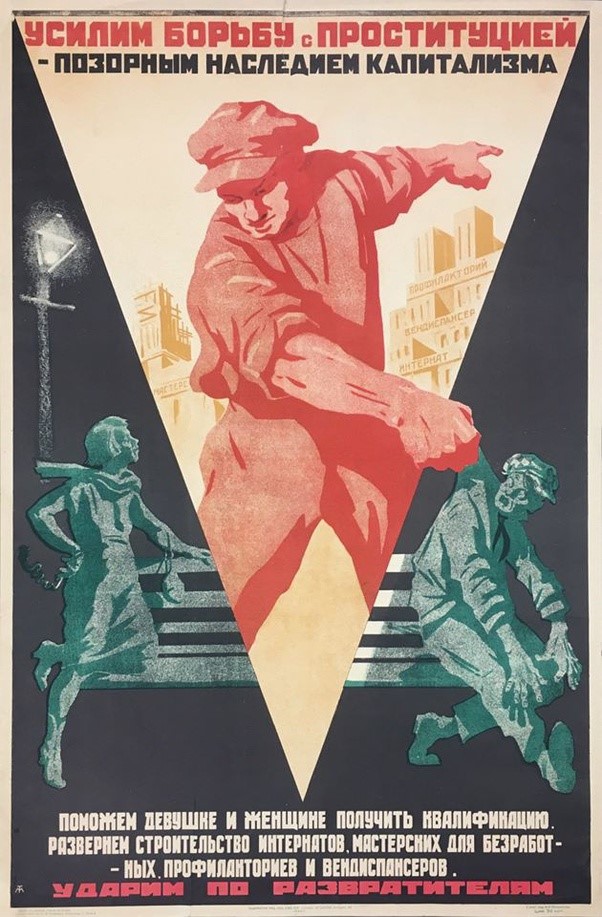 In the Soviet Union, prostitution was relatively uncommon and poorly organised. Under Lenin, prostitution was decriminalised, while the purchasing of sex was punishable by the law. This reflects the strategy of the Nordic Model, before it even existed, suggesting that in reality it is more of a socialist model, originally. As the poster below shows, the USSR sought to help women improve their lives though education and healthcare.
Later, Stalin took a more conservative, populist approach of the time which also saw prostitutes as enemies of the people and criminalised in the same ways as the johns. The USSR generally took a more conservative attitude towards sex, which saw policy around prostitution take backseat due to an unwillingness to recognise it as a problem.
Unlike in capitalist societies, there was little demand for prostitution, as sex was not commodified as it was in bourgeois countries. Hence, no beauty standards mean no consumer standard for sex. Thus, in a society where everything is free, why pay for sex.
Overall, the Soviet Union promoted prostitution as a bourgeois phenomenon, and a social ill confined to capitalism. Though, Alexandra Kollontai argued that it was a leftover symptom of their capitalist past still needing attention. Despite this, the Soviet Union still managed to prevent thousands of women from becoming prostituted, as the collapse of the USSR saw sex trafficking skyrocket throughout eastern Europe.
Cuba
Cuba is a geographically unique political landscape in terms of its history with prostitution. During its colonial period, it was a hotspot for American sailors to abuse the native women as sex slaves. This is an issue that still continues today, where foreign men come to Cuba for sex tourism purposes. This is due to the transitional period of socialism that Cuba is still under, which finds social ills of capitalism still surfacing. Similarly to the USSR, the Cuban government viewed prostitutes as victims of capitalist exploitation and a uniquely bourgeois phenomenon.
However, prostitution has not been a forgotten issue in Cuba, as by 1961, just two years after the revolution, mass efforts were underway to combat the issue. In alliance with the federation of Cuban Women, the state issued a census which identified 150,000 prostitutes and 3,000 pimps. They then found them, fingerprinted, photographed and required them to have physical examinations. Pimping was outlawed, while offering them rehabilitation programmes to reintegrate them back into the workforce.
While prostitutes were offered factory jobs, healthcare and re-education programmes. This approach came with great success, and prostitution was rare and unorganised for decades. However, when Cuba came into the special period in the early 1990's (due to collapse of the Soviet Union) meant a lack of income from Soviet trade. This led to reintroduction of capitalist measures, thus meaning social ills of capitalism once again reappeared and prostitution became a viable way for women to get US dollars. However, this started to stabilise in years after as Cuba began to rebuild their economy.
Socialist Ideal
To conclude, no socialist should ever call themselves 'pro-sex work'; it is a contradiction in terms and suggests a complacency in the exploitation of women. Sex work is not work, it is the legitimisation of the subordination, commodification and exploitation of women. As communists, we aim to take the exploitation out of work. However, you can never take the exploitation out of prostitution, hence, it should never be considered work.
A failure to recognise this, is a failure to recognise the unique sex-based oppression of women. Many socialist leaders have led the way by providing vehemently abolitionist stances towards prostitution. Engels said communism would transform relations between the sexes to purely interpersonal ones. Engels seeking solely interpersonal relationships between men and women, emphasised the nature of their relationships under capitalism being inherently transactional with women as the commodity.
Marx differentiated the worker from the prostituted worker, as its reliance on sexed oppression makes it a form of super-exploitation. Marx also said we need to do away with seeing women as instruments of production, referring to the sale of their bodies for sex, making them a mode of profit making, maintaining their subordination. Sex, without capitalist exploitation, is only an aspect of interpersonal relationships between the sexes, as the material condition is alleviated.
Jessica Duggan
Sources